How Does PhosphatidylSerine Derived from Soy Compare to Bovine?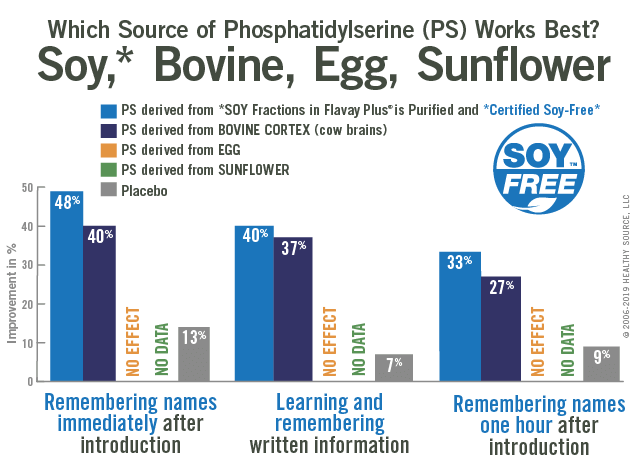 Early studies used phosphatidylserine derived from cow brains (bovine cortex) but when mad cow disease was discovered in the 1980s, researchers discovered soy-derived phosphatidylserine. Both animal studies (140,141,226,227) and human clinical trials (126, 139, 168) proved that soy-derived phosphatidylserine in Flavay Plus® is as effective—and better—than bovine-derived.
A reversal of brain aging of nearly 14 years was found after 12 weeks of supplementation with 300 mg per day of soy-derived phosphatidylserine in Flavay Plus®. Improvements were found in learning and remembering written information, remembering names and recognizing people, and memory of numbers. (168)
How Does PhosphatidylSerine Derived from Sunflower Compare?
Is Sunflower-Derived PhosphatidylSerine Proven Effective?
No. There is no research to determine whether sunflower-derived phosphatidylserine can produce the same brain benefits as soy-derived phosphatidylserine.
Comparative testing demonstrates that research conducted on bovine and soy-derived phosphatidylserine may not be automatically transferred to other phosphatidylserine products. Scientists discovered phosphatidylserine derived from egg failed to produce cognitive improvement. (141)
Consumers want phosphatidylserine that's proven safe and effective. Phosphatidylserine in Flavay Plus® is validated by clinical trials—and extracted from soy which is confirmed non-GMO.