Researchers found not all sources of phosphatidylserine are effective for cognitive improvement. (141)
Which Source of PhosphatidylSerine (PS) Works Best? Soy? Bovine?
Early clinical studies used phosphatidylserine derived from cow brains (bovine cortex). But when mad cow disease was discovered in the 1980s, researchers began testing various foods to find an effective replacement.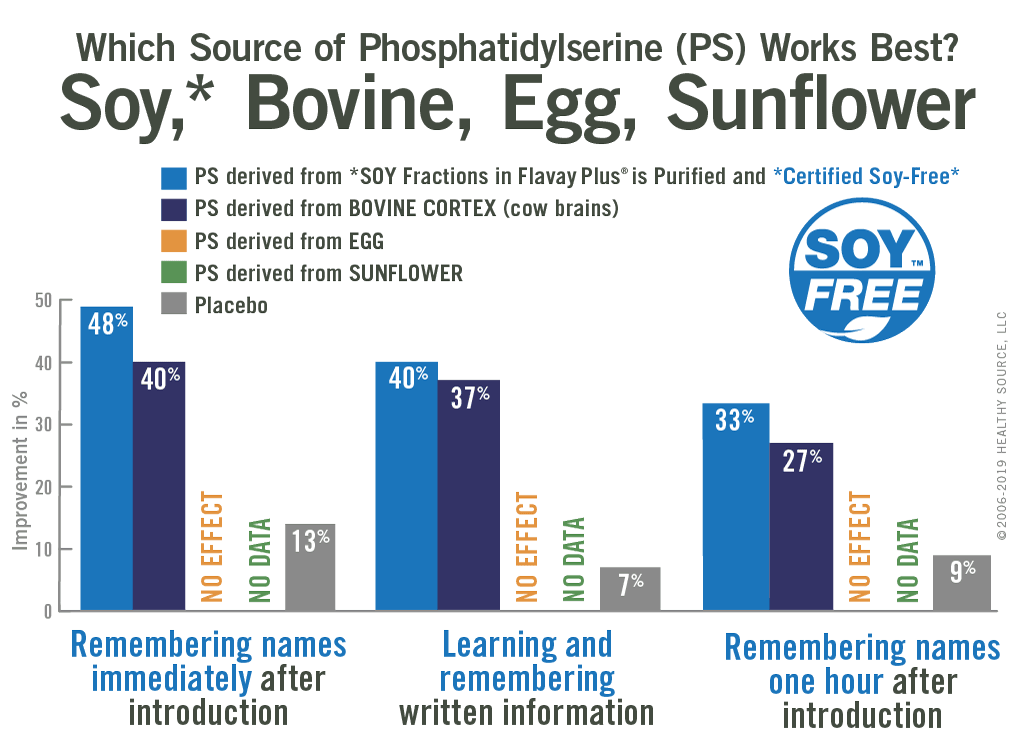 (Above:) The phosphatidylserine in Flavay Plus® is shown superior to bovine-derived phosphatidylserine for cognitive improvement. Flavay Plus® is *Certified Soy-Free* after rigorous testing for soy proteins. Using proprietary, patented processes, phosphatidylserine is extracted from highly purified fractionated gylcine max (derived from soy) and purified to exceed FDA standards for soy-free labeling. (126,141)
Both animal studies (140,141,226,227) and human clinical trials (126, 139, 168) proved that phosphatidylserine derived from soy (highly purified and certified Soy-Free) in Flavay Plus® is as effective—and better—than bovine.
A reversal of brain aging of nearly 14 years was found after 12 weeks of supplementation with 300 mg per day of phosphatidylserine in Flavay Plus®. Improvements were found in learning and remembering written information, remembering names and recognizing people, and memory of numbers. (168)
Researchers found phosphatidylserine derived from egg failed to produce cognitive improvement. (141)